Caring for the environment and conserving resources
Our products are designed and made according to the latest contemporary concepts for heating with biomass. We use a fusion between modern technology and special care for the environment to ensure:
The protection of the environment and our future.
Better heating at a lower price, thanks to pellets.
Easy to use due to the airiness of the pellets.
Minimum soot and ash in and after combustion.
Minimum harmful emissions of CO in the atmosphere.
The production of pellets is an ecologically-sound process.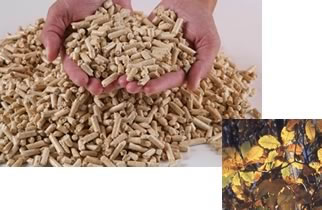 Modern technology
Thanks to our modern technology, appliances fuelled with pellets provide thermal comfort, while requiring minimum maintenance.
Our products are designed primarily for use in urban environments, where the transport and combustion of wood is inconvenient, cumbersome and polluting, but they also provide a great alternative to gas-fuelled heat systems.
The combustion process runs automatically, without the need of continuous surveillance and/or loading. Management and maintenance of the combustion process is carried out with the help of embedded microcomputer system (a microcontroller), consuming negligible amount of electricity.
Modern fuel
The pellets are simple sawdust, pressed with a cylindrical shape of 30mm length and a diameter of about 6mm to 8mm. The best pellets are derived from deciduous wood with low impurity of bark and resin. Due to the low water content (around 6%), pellets have a high calorific value, close to that of the high-quality hard coal.
Pellets characteristics:
Thermal energy : 18 500 kJ/kg

Thermal power: 5,0 kWh/kg

Percentage humidity : ≤8% by weight

Composition : 100% wood (≤20% peel)

Packaging : Polyethylene bags, various cuts